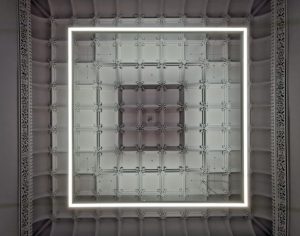 Hewitt Studios have recently completed a suite of improvements to the Grade II listed Beckett House in Shrivenham.
The C19 Hall and Grounds have now entered a new chapter in their history, becoming the base of the Armed Forces Chaplaincy Centre (AFCC) which provides training in pastoral skills, spiritual resilience and awareness of World Religions. Envisioned as an all ranks environment that promotes open conversations among those attending courses, conferences and seminars. Beckett House will provide a tranquil setting in which all can reflect and experience a degree of respite.
In order to enable this change of emphasis to take place, we adapted the existing building to provide improved amenity, with a new Chapel, World Faith Room, Ablutions Facilities, etc. as well as undertaking a raft of pragmatic upgrades inc. new lighting strategy, fire safety measures, structural enhancements and fabric repairs.