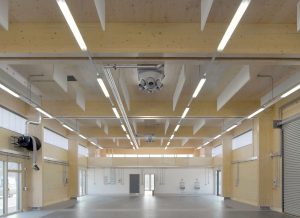 This is a sustainable new-build workshop sporting an innovative and highly-efficient 'flat-pack' timber structure.
The project is situated on the Holme Lacy campus of Herefordshire and Ludlow College and is designed to complement the nearby Straw Bale Cafe, Fast-Track Classrooms and LRC refurbishment. It is used primarily for the maintenance of tractors and other agricultural machinery.
Unusually for an industrial building, the workshop sports an innovative and efficient 'flat-pack' timber structure, which takes advantage of Cross Laminated Timber (CLT)'s omni-directional loading capability to cut all beams, columns, walls, and roof from a single 200mm thick board. This pre-fabricated, sustainable and attractive self-finished material allowed for a rapid on-site build (important as the College had a limited window of construction opportunity) with reduced foundation sizes, the flexibility for services to be fixed anywhere and the creation of a high-quality internal environment (with excellent acoustic properties).
The workshop also has a modest energy requirement in use, thanks to a highly insulated envelope, efficient services specification and 12kW of roof-mounted solar pv panels, all helping to secure its A-rated Energy Performance Certificate (EPC).
Read more about this 'model of how to build those B-class buildings with care… sustainability… and… style' on the Tree Hugger website.
The project was named 'Education Project of the Year' in the 2017 Structural Timber Awards.

Category
Architecture, Design, Education, Featured, Innovation, Sustainability, Wellbeing