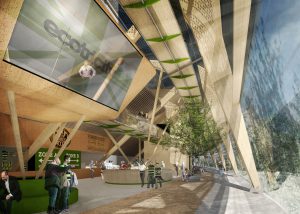 Hewitt Studios have recently developed a model for a sustainable football stadium which is designed to be:
IMMERSIVE: the Match-Day Experience will be fully immersive from the moment of arrival, with a vibrant and active communal spaces, typified by the central winter garden, which will draw home fans and visitors together in an atmospheric environment.
INCLUSIVE: beyond the match-day use the stadium will be transparent and outward looking, both socially and architecturally, acting as a community resource for the wider area. An outstanding facility and a destination in its own right.
INSPIRING: in use, the stadium will become an landmark, inspiring and encouraging visitors to return whilst enhancing the reputation of the football club and its wider, green aspirations – raising the bar for the architectural, environmental and social impact of stadium designs.
Category
Architecture, Community, Design, Innovation, Mixed Use, Sustainability, Wellbeing