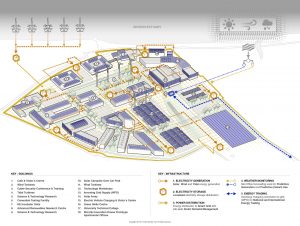 Hewitt Studios have been working with Schneider Electric to develop a Smart Grid for the Gloucester Science and Technology Park campus in Berkeley.
The Smart Grid is designed to provide the campus with greater energy resilience and autonomy, through its ability to:
• Generate renewable energy (via solar pv, wind and tidal power).
• Store energy (via large battery arrays).
• Trade energy (with the National Grid).
• Control energy demand.
• Interact with electric vehicles (both charging and V2G).
The result will be a significant reduction in energy costs and carbon footprint for the Science Park and its users, as well as the virtual elimination of any energy downtime.
The project is an extension of our early work on SERCH.

Category
Architecture, Energy, Innovation, Sustainability, Urban Design