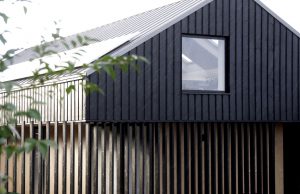 This project is located in an Area of Outstanding Natural Beauty on the Gower peninsula. It enjoys a spectacular coastal vista, taking in the ruins of nearby Pennard Castle (a Scheduled Ancient Monument) and the Three Cliffs Valley (containing designated Sites of Special Scientific Interest). These are sensitive surroundings which demanded a carefully-considered approach.
Hewitt Studios designed a house of negligible environmental and visual impact, designed to exceed Level 3 of the Code for Sustainable Homes (with the incorporation of passive, low-energy technologies like natural ventilations and solar gain), whilst forming a discrete addition to the coastal landscape.
The primary fabric of this dwelling was constructed in just 2 weeks using a novel prefabricated hemp-timber frame, which was ideally suited to the changeable local marine environment. This system consists of timber framed panels packed with two layers of hemp based fill; the inner layer being hempcrete (hemp shiv mixed and lime) which provides thermal inertia, the outer layer being a highly insulating quilt woven from hemp fibres.
As a consequence the dwelling has minimal space heating requirements, these are met autonomously by electric heating generated from its own 3.5kw Photovoltaic panel array.
Category
Architecture, Design, Innovation, Residential, Sustainability, Wellbeing