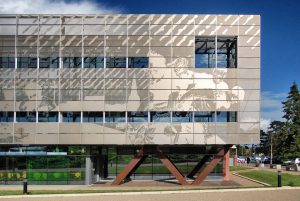 This project created a new campus for Herefordshire and Ludlow College as the first stage of our Hereford Learning Village masterplan.
Phase 01 comprised a Learning Resources Centre (LRC), Business and Technology Centre. The LRC is intended as a regional landmark and a catalyst for future development – the expressive use of materials (such as cor-ten weathering steel) is crucial to this perception. The building was developed as a sustainable solution, around a retained concrete structure, with passive environmental systems like natural ventilation, solar shading and night-time cooling integral to the strategy.
Phase 02 added a Community Studies Centre, which provides a 'front door' to the campus. It incorporates those areas of the College which benefit from public interaction, such as the reception, training restaurant and hair and beauty salons. It also establishes an accessible landscaped heart to the College, with a central learning street, stepped/ramped ampitheatre and College quads/gardens. Red weathering steel and local stone provides a unifying contextual accent between the building and its surroundings.
Winner of the 2010 South-West LABC Best Education Building Award

Category
Architecture, Creative Re-Use, Design, Education, Featured, Sustainability