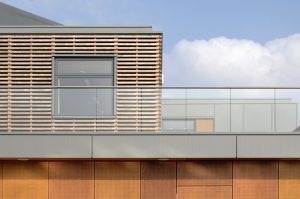 Hewitt Studios have recently refurbished the Learning Resources Centre (LRC) on Herefordshire and Ludlow College's Holme Lacy Campus.
The fabric of the LRC at Holme Lacy had been suffering from severe decay in a number of areas. The wide extent of dilapidation has resulted in increased maintenance demands and was critically affecting the safety, usability and perceived quality of the learning environment.
Our proposal set out to address these concerns, enhancing the appearance, energy performance and security of the LRC whilst minimising disruption to College operations.
The LRC adjoins the existing Straw Bale Cafe and shares its environmental focus on energy-efficiency, as well as its site-derived architecture – using materials and labour from the Holme Lacy Campus. It also creates a new external social space between the Cafe and LRC for the benefit of all College students.

Category
Architecture, Creative Re-Use, Design, Education, Sustainability, Wellbeing