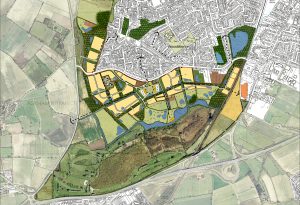 Hewitt Studios recently achieved a draft allocation from the City of York Council in response to a call for housing sites.
Acting on behalf of the Moor Lane Zero-Carbon Partnership (a consortium of local landowners), we formulated a proposal for a sustainable new regional centre which would support between 500-1000 units of much-needed family housing.
The 350 acre development is located near Askham Bog, a designated Site of Special Scientific Interest. Our proposals seek to protect and enhance this unique habitat through a series of carefully considered measures, such as sustainable drainage systems, on-site collection and retention of clean water (to supply Askham Bog) and the creation of new water habitats (to separate and protect Askham Bog from intrusion).
A development partner is currently being sought, with further representations to be made to the City of York Council over the coming months.
Category
Architecture, Mixed Use, Sustainability, Urban Design