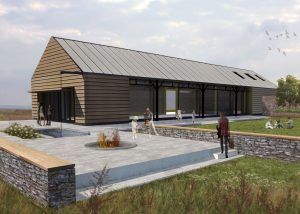 This project sees the conversion agricultural barn at Rushall Organics into a new multipurpose events space.
The new facility will provide a venue for established rural pursuits such as shooting and fishing, as well as providing an education space from which to promote the farm's unique 'Organic' story. It will support wider diversification of the farms activities including, corporate training days, local events and weddings during the summer months.
In line with the ethos of a fully organic farm, this responsible conversion aspires to be an exemplar 'offgrid' project, with a 'zero-carbon' heating target. The sensitive use of local agricultural building materials and a carefully considered landscape design, ensure that it is respectful of its surroundings, whilst allowing its users to enjoy the sublime hilltop location.

Category
Architecture, Community, Design, Innovation, Sustainability, Wellbeing