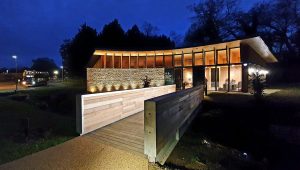 The Royal Army Chaplains' Museum, which will house a diverse collection of archives and artefacts while telling the story of Faith in the Forces, is currently under construction at the MOD's Defence Academy site at Shrivenham. The project is part of a 25-year Defence initiative to invest in a more modern and sustainable estate.
As well as housing permanent collections, the new museum is centred on a purpose-built exhibition gallery that will provide flexible spaces for visiting displays. The landscape is an integral part of the design, and careful consideration has been given to minimise the impact on the environment through measures like the biodiverse green roof, whilst working within the confines of the site which include an existing watercourse and established estate trees.
The end result is a striking and sustainable single storey LVL timber frame construction providing carefully framed views of its setting, with a minimal environmental footprint courtesy of passive solar design, high levels of natural hemp insulation, energy-efficient services and significant levels of carbon sequestration.
Category
Architecture, Arts & Culture, Community, Featured, Innovation, Sustainability