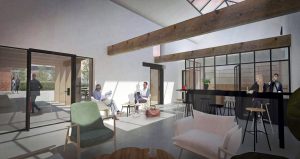 Herefordshire and Ludlow College have decided to use the opportunity for refurbishment of their building stock to deliver wider benefit by locating a new Enterprise Centre in the old stables at Holme Lacy. This will provide recent graduate students with affordable workshop space for their startup businesses, housed in an historic and sensitively restored agricultural building.
At the same time, a new stable building and manege will be constructed to rehouse the College's core equestrian activities in fit-for-purpose accommodation. Nearby agricultural stores will also be constructed to modern standards.
Finally, a new site-wide landscape scheme will be implemented which will instigate a safer one-way traffic system, restrict parking to fewer (better managed) areas, improve the pedestrian environment, create more student recreation space and enhance site biodiversity.
The result will be a safer, more accessible and higher quality campus for the College and all its users.