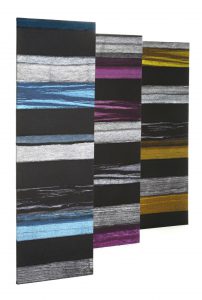 Modular acoustic panels providing flexibility to suit any given space. Each panel is any size up to 2700mm high and 600mm wide. Framed, double-sided free hanging panels, any size up to 2700mm high x 1200mm wide are also available.
A wide range of colourways is available.
Featured in ID Magazine as one of the top 200 new and notable products of 2008.
Design inspiration comes from the structure and rhythms found within nature, responding to exposed rock formation found on the Somerset coast.