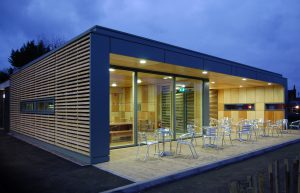 This project comprises an extended 100 seat cafe, refurbished kitchen and cafe terrace for the Holme Lacy campus of the Herefordshire College of Technology. The extension is conceived as a College learning aid in low-impact environmental design, with the following key features:
• Demountable: Building designed to be dismantled at end of 15 year design life and all components re-used / re-cycled.
• Low-impact Structure: Modcell pre-fabricated timber frame bearing on pad foundations.
• Local Materials: Cedar, sedum and organic straw insulation to be grown/harvested by the College on-site.
• Simple Construction: The timber frame structure was designed to be assembled / dis-assembled by a semi-skilled workforce. College staff / students assisted with the construction, inc. frame assembly and planting of the green wall.
• Low Carbon: The building is designed to minimise embodied energy and energy in use through the use of super-insulation, passive environmental controls and on-site energy generation (solar and wind power).
• Learning Aid: The building offers the potential to test new environmental technologies, through the involvement of post-graduate research students at Nottingham University. ilovedust have produced an educational wall graphic to tell the environmental story of the building.
SILVER 2014 Green Apple Sustainability Award
Winner of National 2011 LABC Technical Innovation Award
Shortlisted for a National 2011 RIBA Design Award
Shortlisted for a 2012 Wood Award (Small Projects Category)

Category
Architecture, Community, Creative Re-Use, Education, Featured, Innovation